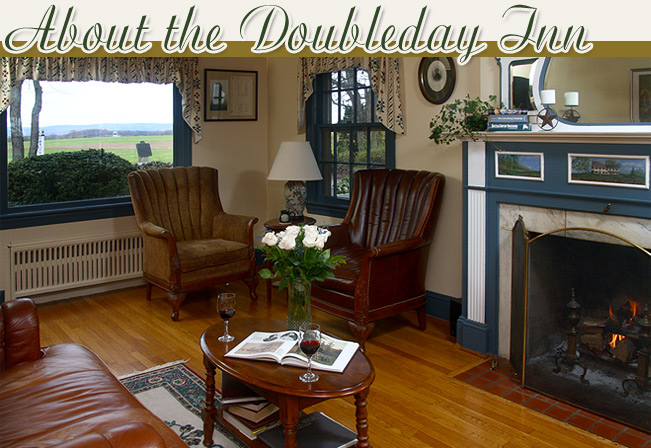 Our beautiful gardens provide ample opportunity for relaxing with a nice glass of wine or cup of tea. With two peaceful patios as well as a second floor deck there is always a quiet spot to take in the panoramic views of the Gettysburg Battlefield and surrounding countryside. Stretch out in the hammock and take a peaceful nap, or bring your binoculars to view the many species of wild birds that frequent our feeders.
The Doubleday Inn is only 1 mile from Lincoln Square, the center of downtown Gettysburg. Close enough to all the popular shops and restaurant to be convenient, yet worlds away from all the hustle & bustle of traffic, tourists and sirens. We offer the perfect combination of "town and country". Parking is simple at our Inn. No parking garages, no meters to feed and no long flights of stairs to negotiate. Simply pull into our large, off-street lot right in front of the house and enter through the front door. Just like home!
Meet the New Innkeepers
Greg and Sue Rosensteel!
Greg and Sue, and General Buford
and the two Goldens, Indy & Yogi
We are so excited to have the opportunity to be "living the dream" and follow in Christine and Todd Thomas's footsteps as the next Innkeepers of the Doubleday Inn in Gettysburg, Pennsylvania. Our intentions are to continue with the high standards of hospitality and tradition established by the Thomas family and bring our passion, stories and enthusiasm to all who visit the Doubleday Inn.
Our drive and passion stems from a 200-year genealogical historical connection to the area ranging from family members who not only resided in the area but also fought (on both sides) of the civil war. Many generations of Rosensteel's contributed to some of the most popular attractions in Gettysburg. This ranged from the Rosensteel's who founded the original Gettysburg Museum, created the Electric Map, hosted the annual Pig Roast at their Little Round Top restaurant while others became some of the first licensed battlefield guides or helped to construct some of the monuments in the park (such as the New York monument on Little Round Top). On the maternal side, Greg is related to Rev. Henry Lewis Baugher who offered the benediction at the Gettysburg Address and was the president of Gettysburg College. Other family members include Colonel Jacob M. Sheads a well-known historian and educator who had the privilege of being President Kennedy's personal battlefield guide during his visit in 1963. And, yes, some Rosensteel's were even well-known area innkeepers of years ago!

We look forward to sharing more stories, photos and history with all who wish to know more. But most importantly, we hope to learn more about you and welcome you to experience history and hospitality with us at the Doubleday Inn.

---
"The Doubleday Inn has it all...a perfect location in a beautiful setting, an elegant vintage home,
peace & quiet, delicious food, and exceptional hospitality provided by Christine & Todd."
Paul T. Sarasota, FL
Check out what Forbes had to say about
America's Prettiest Towns and where you should stay!
Your Home Away From Home on the Gettysburg Battlefield
Our inn is designed to cater to the needs of history lovers and those seeking a quiet refuge from the stresses of modern living. The Inn has NO televisions or phones so that guests can really feel like they are "away from it all" in our quiet & peaceful atmosphere on the National Military Park.
Each of our 9 guest rooms is uniquely decorated in a casual country style with Civil War accents. All rooms feature private bath and free WiFi. Enjoy the Inn's central air-conditioning during the hotter summer days as well as a uniquely framed fireplace in the common living room area during cold weather seasons. Especially popular is the parlor's excellent library of books on the Battle of Gettysburg and other Civil War subjects.
Click here for more information
click here - learn more
about our specials
Click here to learn more
about our history
Click here for
Directions to the Inn