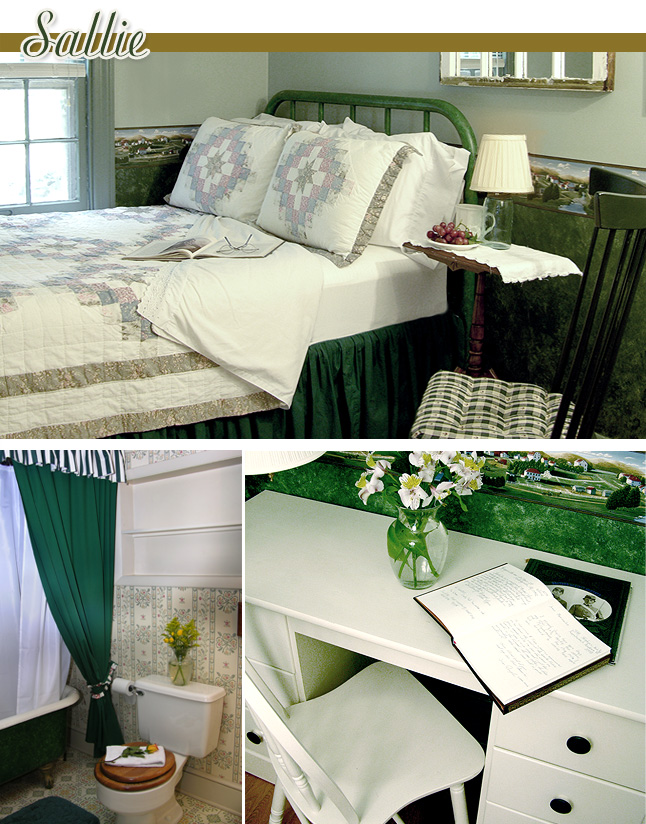 After the days first fighting northwest of Gettysburg and the Union retreat through town, Sallie was discovered to be missing. The battle progressed in length and ferocity and the men of the 11th did their duty. Days later after the Confederate retreat, Sallie was found lying down with the dead of her regiment on the fields of the first days conflict. Weak from lack of food, her comrades nursed her back to health, to again serve with her regiment. Sadly, just two months before the war's end, Sallie was killed at Hatcher's Run, VA. Despite what was described as a "murderous fire", as the battle raged, men of the 11th buried their loyal friend and comrade on the field where she fell. When the 11th Pennsylvania erected their monument, they could not forget their little companion who bravely and faithfully served by their sides throughout the battles.
Our smallest guest room, the Sallie Room is ideal for solo travelers and features an antique double bed, hardwood floors, and close access to our second floor deck. The Sallie Room has a large, private hall bath, meaning that it is reserved exclusively for use by Sallie Room guests, but is located a few steps across the hall from the bedroom. We provide robes so you don't have to waste space in your suitcase!
Sallie the War Dog, a brindle bull terrier who was the loyal and beloved mascot of the 11th Pennsylvania, stood defiantly by the colors, the most dangerous spot on the line. She was wounded 3 times and had 3 litters of puppies. At
Gettysburg, she stayed with the wounded on Oak Ridge. The 11th PA monument is about 100 yards from the Doubleday Inn. The heroic dead to whom this monument was dedicated includes their Sallie. Mustered in as a pup, Sallie grew up with the 11th as her family. She frequently positioned herself at the end of their line during battles, barking furiously at oncoming Southern troops.

Continued below...
Rates From $130
The Sallie Room is on the second floor and adjacent to the Ramseur, Cutler & Devin Rooms and the second floor deck
Amenities:
Private bath with antique claw foot
tub/shower combination

Central Air Conditioning

Wireless Internet Access

Panoramic battlefield view
Maximum Occupancy: 2
"We couldn't ask for a friendlier place to stay. Thanks for all the extras you've provided for a most enjoyable stay." Elaine H., Gastonbury, CT