Our beautiful gardens provide ample opportunity for relaxing with a nice glass of wine or cup of tea. With two peaceful patios as well as a second floor deck there is always a quiet spot to take in the panoramic views of the Gettysburg Battlefield and surrounding countryside. Stretch out in the hammock and take a peaceful nap, or bring your binoculars to view the many species of wild birds that frequent our feeders.
The Doubleday Inn is only 1 mile from Lincoln Square, the center of downtown Gettysburg. Close enough to all the popular shops and restaurant to be convenient, yet worlds away from all the hustle & bustle of traffic, tourists and sirens. We offer the perfect combination of "town and country". Parking is simple at our Inn. No parking garages, no meters to feed and no long flights of stairs to negotiate. Simply pull into our large, off-street lot right in front of the house and enter through the front door. Just like home!
Meet the Innkeepers
Your hosts on the Gettysburg Battlefield are Todd & Christine Thomas.

Natives of Schuylkill County, PA the two took ownership of The Doubleday Inn in June 2006. Having been frequent Gettysburg visitors for many years they are now enjoying full-time Innkeeping and especially like getting to know the many interesting visitors that the Inn receives from all over the world.
Todd & Christine live on-site and strive to make your visit enjoyable and relaxing in every way. Guests are always impressed with the personalized service and attention to detail they receive at every visit. Here you will be treated like family, not like a customer.
"We feel truly blessed to be the stewards of this wonderful Inn and the Gettysburg National Military Park. We strive to make your stay with us personalized, comfortable, and beyond your expectations in every way. We look forward to sharing our knowledge and appreciation of this very special historical site with you.
Hope to see you soon!"
Christine & Todd
---
"The Doubleday Inn has it all...a perfect location in a beautiful setting, an elegant vintage home,
peace & quiet, delicious food, and exceptional hospitality provided by Christine & Todd."
Paul T. Sarasota, FL
Check out what Forbes had to say about
America's Prettiest Towns and where you should stay!
Your Home Away From Home on the Gettysburg Battlefield
Our inn is designed to cater to the needs of history lovers and those seeking a quiet refuge from the stresses of modern living. The Inn has NO televisions or phones so that guests can really feel like they are "away from it all" in our quiet & peaceful atmosphere on the National Military Park.
Each of our 9 guest rooms is uniquely decorated in a casual country style with Civil War accents. All rooms feature private bath and free WiFi. Enjoy the Inn's central air-conditioning during the hotter summer days as well as a uniquely framed fireplace in the common living room area during cold weather seasons. Especially popular is the parlor's excellent library of books on the Battle of Gettysburg and other Civil War subjects.
Click here for more information
click here - learn more
about our specials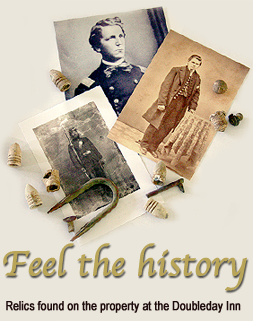 Click here to learn more
about our history
Click here for
Directions to the Inn