WINTER SAVINGS SPECIAL!!!
From November 25-March 23, book any room of the inn on any night of the week for just $135...PLUS book online
and receive our $10/night online booking discount! No minimum stay requirements and NO DATE EXCLUSIONS!!!
Make your winter plans now to enjoy the peace & solitude of the Gettysburg Battlefield out of the hustle & bustle of the busy season.
---
Come Celebrate 30 Years With US!
To thank our loyal customers and celebrate our 30th Anniversary, we are holding a year-long raffle. Each guest will receive one entry per room night stayed in 2017!
.
On January 1, 2018 winners will be drawn.
Prizes include:
• GRAND PRIZE: 1 grand prize winner will receive a two night stay for two at the Inn in 2018. The winners' stay will include a two-hour battlefield tour with a Licensed Battlefield Guide, two tickets to view the museum and cupola at the Seminary Ridge Museum, two tickets to enjoy a Ghosts of Gettysburg walking tour, and a $50 gift certificate to a Gettysburg restaurant of their choice.
• FIRST PRIZES: 10 additional guests will receive a special PROMO CODE to use for a 30% discount for a future two or more night stay at the Inn.
• SECOND PRIZES: 10 final winners will receive a custom, handmade Doubleday Inn pottery mug.
---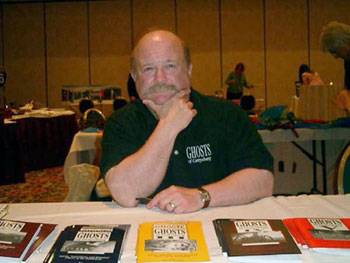 EXCLUSIVE GHOSTS OF GETTYSBURG HAUNTED CRIME SCENE INVESTIGATION WEEKEND
Featuring the Ghosts of Gettysburg Paranormal Investigation Team & Forensics Expert Katherine Rowland
"Join us for this first of its kind investigation weekend!!!"
Can forensics & paranormal investigations come together to shed new light on unsolved cold cases? Do violent incidents leave lingering paranormal impressions?
Forensics expert Katherine Ramsland joins forces with professional paranormal investigators Mark and Carol Nesbitt to investigate a local unsolved murder. The Doubleday Inn in Gettysburg, PA will serve as the command post for the weekend.
Though not required, it is recommended that participants have some experience doing paranormal investigations. The weekend will focus on merging the use of paranormal investigative techniques with forensic techniques. If you are a paranormal newbie, no worries! Between Mark and Carol we can get you up to speed on the basic techniques. We are specifically being vague about the crime scene/case we will be investigating as we'd like everyone to arrive "fresh" and with no pre-conceived ideas about the case!
MARCH 31-APRIL 2, 2017 - Sold Out!
New dates you'll want to book right away - April 7th and 8th
This private and exclusive Investigative Weekend includes all of the following:
-2 night stay at the Doubleday Inn (including a full, hot breakfast served each morning of your stay)
-Friday evening dessert & libation discussion at the Doubleday Inn with an introduction to the Investigation Team and a discussion of the Forensic & Paranormal Investigative techniques we will use over the course of the weekend. We will split into teams and receive individual and team assignments based on the specifics of the murder case we will discuss.
-Saturday after breakfast we will convene at the Inn to receive instructions and directions to the sites to be investigated and head out.
-5 PM meet up back at the Doubleday Inn for a pasta dinner and more desserts/libations as we discuss the results of the afternoon investigation.
-Sunday breakfast followed by a final review of the investigation results and discussion of our conclusions.
Pricing for weekend package:
Regular room rate for two night stay (room of your choice) PLUS $300/person...this covers all meals except your dinner on Friday PLUS total access to the Investigation team during the course of the weekend event. This is a jam-packed weekend and tons of fun!!! You may want to add a night at the Inn pre-or post-weekend just to have some "down time"!
To make a reservation for this incredible, one of a kind weekend simply book the room of your choice here!
*Please note Gift Certificates are not accepted for package weekend. Space is limited and will book quickly, package weekend subject to 30 day cancellation policy.

Exclusive Internet Users' Discount!
Book your room directly through our website and save $10/night on our published room rates.
Click here to make your reservations today.
---
Download our
Guided Gettysburg
Walking Tours here!

Gettysburg, PA: A Walk through the Historic Town

Gettysburg: True Tales of Ghosts & Hauntings
---
Complimentary with Your Stay:
Full hot breakfast served from 8-9:30 AM each morning
Use of CD Audio Tour program
All private baths
Central Air Conditioning
Free WiFi throughout
Afternoon cookies & self-serve tea
---
Give the gift of a stay
at the Doubleday
We never settle for less than the best and neither should you! Our very special Theme Weekend packages are designed with you, the history lover, in mind. We offer the only packages in Gettysburg with guaranteed licensed professionals as your guides and absolutely ZERO price mark-ups on all package components.
Our goal is simple: To provide our valued guests with a great bargain and as much history as we can pack into one weekend!
Click here to read what our guests say about our Theme Weekends